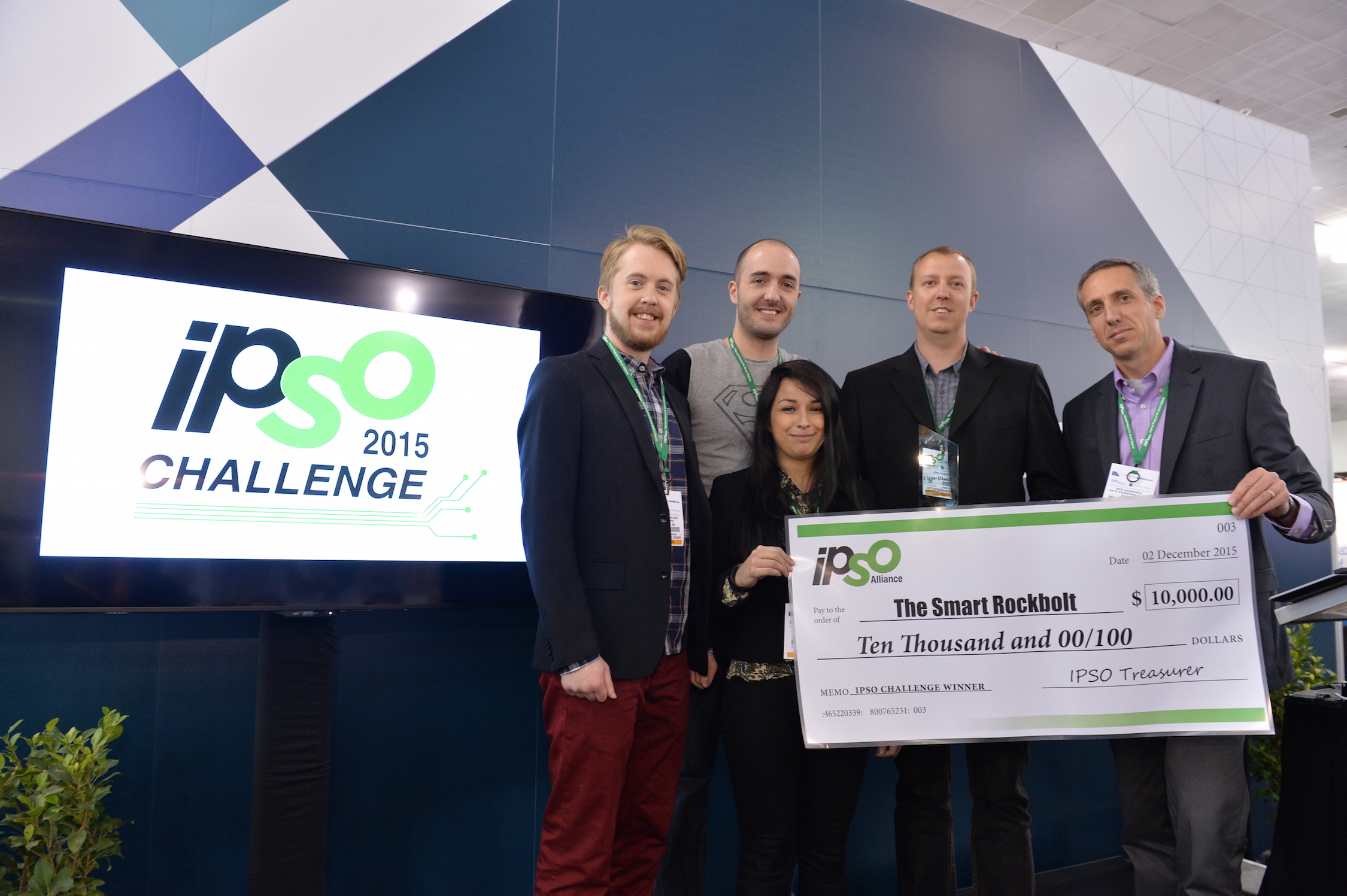 IPSO Alliance Names The Smart Rock Bolt $10,000 Winner of the 2015 CHALLENGE
San Jose, Calif.–December 2, 2015–The IPSO Alliance (IPSO) today announced the winners of the IPSO CHALLENGE 2015 during an awards ceremony sponsored by Google and held at Designers of Things. The IPSO CHALLENGE asks entrants to showcase how they use Internet Protocol (IP) and open standards in building the Internet of Things (IoT).
"The goal of the IPSO CHALLENGE has always been to attract and nurture the most innovative IP-based designs for the IoT," said Nicholas Ashworth, Co-Chairman of IPSO CHALLENGE 2015. "We look forward to following these companies' progress and continued innovation as they enter the marketplace."
Now in its third year, the IPSO CHALLENGE 2015 received entries from around the world in a wide range of industry categories. First Place and the grand prize of USD $10,000 was awarded to The Smart Rock Bolt developed by Luleå University of Technology and Eistec AB. "This recognition is a tremendous honor and will support development of our next generation prototype as we work to transform a traditional and global industry," said Jens Eliasson of Luleå University of Technology. "The CHALLENGE showcases the value of IP and interoperability, and how IP allows products and services from different vendors to be interconnected over different application domains and underlying technologies."
Second Place and a prize of USD $5,000 went to EISOX's Intelligent Thermostatic Radiator Valve and Third Place and a prize of USD $2,500 was awarded to MicroPnP's IoT platform.
"On behalf of the IPSO Alliance, I would like to thank our mentors and judges for the time and effort they donated to this process," said Christian Légaré, Co-Chairman of IPSO CHALLENGE 2015. "Our thanks also to Gold and Silver Sponsors Google and Atmel, as well as Development Sponsors ARM, Atmel, Freescale, Micrium, Sigma Designs, STMicroelectronics and Texas Instruments."
The full list of IPSO CHALLENGE 2015 semi-finalists is available on our website, or can be seen in the IPSO Pavilion, booth 243, at Designers of Things.
About the IPSO Alliance
The IPSO Alliance is a global forum comprised of a diverse international membership of companies and non-profit organizations focused on developing the definition of this smart object framework with an emphasis on the aspects of identity and privacy. IPSO Alliance membership is open to any organization supporting an IP-based approach to connecting smart objects. For more information, http://www.ipso-alliance.org/.
Read the release in Traditional Chinese: The Smart Rock Bolt榮獲2015 IPSO挑戰賽冠軍和獎金1萬美元
Read the release in Simplified Chinese: The Smart Rock Bolt荣获2015 IPSO挑战赛冠军和奖金1万美元
Read the release in Spanish: IPSO Alliance premia con $10.000 a The Smart Rock Bolt como ganador de CHALLENGE 2015