Control Cube: Turning simple into smart
Contestants: Prof. Sotiris Nikoletseas, Dr. Marios Angelopoulos, Dr. Dimitra Patroumpa, Gavrilis Filios, Fanis Raptis, Constantinos Veroutis, Vasilis Ninos-Georgopoulos
Affiliations: CTI and University of Patras, Greece
Semi-Finalist






Summary
Control Cube is a device (both software and hardware) that enables every-day, conventional appliances and automations to join the Internet of Things vision. By combining Future Internet Technologies (like IPv6, CoAP and the IPSO Application Framework) and off-the-shelf electrical and electronic components into an open and modular architecture, Control Cube constitutes a low cost, easily deployable, plug-n-play solution that extends the IoT paradigm so as to also include legacy protocols and devices.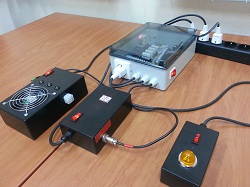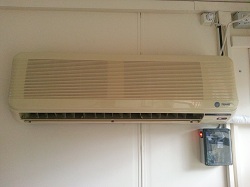 How does your Smart Object/Solution use Internet Technology?
Control Cube is built around a commercial, IPv6-enabled sensor mote platform, which interfaces to a grand variety of electrical and electronic devices. The mote itself operates as a tiny web-server; it is uniquely defined in the Internet world via an IPv6 address and is able to directly and seamlessly communicate with other Internet connected devices and computers. This way, sensors, actuators, appliances and diverse devices can be abstracted as web-resources, thus becoming part of the IoT.
Why did you choose to invent this?  What problem does the inventor see that it can solve?
Most commonly, when we refer to Smart Objects, we imagine of high tech devices that have been particularly engineered to natively support communication with each other and the Internet. This way, however, myriads of legacy devices and everyday objects, that already exist and are already deployed all around us, are practically excluded from the Internet of Things vision. Control Cube is an agile, low-cost solution that bridges the technology gap between already existing, conventional devices and the Future Internet.
What is the practical application of your innovation for the everyday user?
In Smart Buildings, Smart Building Management Systems require that building appliances and devices (such as HVAC systems, lights and curtains) can be operated automatically either directly or via electromechanical actuators. However, in the case of old buildings, most commonly there is neither network cabling nor structured wiring and most devices are of legacy technologies with no networking interfaces. Standardizing the procedure of interfacing these devices with IoT-enabled sensor motes, that have wireless communication capabilities, would allow to create ad-hoc networks spanning across entire buildings without having the need to install any wiring infrastructure (thus leading to high cost savings). Furthermore, it would pave the way for already existing buildings to join the Internet of Things paradigm.
In this context, Control Cube has already been successfully used in two experimental use case scenarios. First, an ordinary room has been turned into a smart one with minimal interventions, by interfacing few Control Cube prototypes to indoor light arrays, electric curtains, air-conditioning and ventilation units. By taking advantage of several Future Internet technologies, the room is able to adapt to human presence and the external environmental conditions, thus yielding significant energy savings.
In a second use case, Control Cube has been used to remotely monitor a major strawberry cultivation unit and to adapt the irrigation process to the actual watering needs of the plantation.  When compared to the traditional irrigation methods (that heavily rely on farmer's experience and intuition), a much better management of water resources was achieved.
Did you invent new technology? How is your device unique?
While similar commercial solutions already exist, these are designed to operate as "black boxes"; they heavily rely on proprietary solutions that are vendor specific. Therefore, many interoperability issues arise, while the costs of purchase and maintenance are very high. The open and modular architecture of the Control Cube makes it vendor independent, thus allowing it to be interfaced with most of the already deployed devices, while maintaining its development and maintenance costs at low levels. Furthermore, it is highly customizable and upgradable so as to meet the specific needs of each application (e.g. if needed the weak TelosB platform can be easily replaced with a more powerful ARM microcontroller).
What hurdles did you overcome in creating your device? Were necessary parts easily obtained?
Control Cube is built around the well-known TelosB sensor mote platform. All other necessary parts are easily found as they are common electronic and electrical elements, such as AC/DC converters, mechanical relays, resistors, diodes, etc. However, during the development of the firmware of the Control Cube several technical hurdles have emerged. The CoAP implementation of TinyOS had to be greatly extended and adapted. New types of resources had to be implemented in order for the Control Cube to be able to drive as many devices as possible. At the same time, severe hardware limitations drove us to perform a careful resource optimization (mainly in terms of memory usage) when developing the firmware.
Are there plans to produce your entry for the marketplace, or is it already a product that can be purchased/obtained?
Currently, Control Cube is a prototype and therefore, not yet ready for the marketplace. However, a spin-off company is under establishment. The purpose of this company is to transform the Control Cube into a commercial product; i.e. to use the ARM series of microcontrollers instead of the weak TelosB research platform, to radically shrink Control Cube's dimensions while also further decreasing its cost by printing it to a printed circuit board for mass production, to come up with several Control Cube configurations with support for new types of devices in order to meet the market's needs. Further, our team plans to keep contributing to standardization activities on IoT and Future Internet technologies and protocols.
Why would you consider your device/solution to be "innovative"? 
Control Cube redefines the way we interact with our environment by bridging the technology gap between ordinary devices and the new era of the Future Internet. To achieve this Control Cube takes advantage of novel and emerging technologies that redefine the Internet; like the Constrained Application Protocol for lightweight Machine-to-Machine communication and the IPv6 protocol with the vast address space that obsoletes the need for proxies.
What would you like to see in the future for the Internet of Things? Why should more companies utilize IP?
Internet of Things is about to radically change the way we perceive and interact with the world around us. For centuries, our surroundings have been passive; we had to turn on lights, adjust heating, remember to turn-off the water heater and be aware not to over-cook our meal. IoT will enable our home to pro-actively prepare itself to welcome us back after a busy day; it will raise the heating, prepare our bath and adjust in-door lighting to match our mood. In the morning, it will notify our car to warm its engine, which in turn will notify our office for our arrival when reaching our workplace.
Up until now being able to interact with Smart Objects over the Internet has been greatly considered a luxury that only tech-geeks were interested in; however, this should not be the case.  IP has been in use for both commercial and private purposes for few decades and has already proved itself worthy. The mechanisms it offers are scalable, robust and secure; attributes that every company would like to offer to its clients. Further, IP provides a common framework that is already widely spread and has a strong and diverse community; from deep networking engineers to high level web developers. Companies utilizing IP take benefit from all these aspects and as more and more of them adopt it, the further away we move from a new format war.
Contact