Redwire Energy Harvesting Wireless Internet Current Transformer
Contestants: Mariano Alvira and Josh Gordonson
Affiliation: Redwire Consulting, LLC
Place: 1st
Award: $10,000 USD
Read more: Wireless Sensors Network Blog
Summary
The Redwire Harvesting Current Transformer is a self-powered current sensor that is wirelessly connected to the internet. Current sensing is widely used to maintain and operate many different types of electrical loads, such as to audit the types of electrical loads in a building to perform effective energy conservation plans or preventative maintenance of equipment. Unlike traditional systems that are difficult to install, the Redwire CT combines Internet Technology and energy harvesting to make installation as easy as clipping the sensor on to the wire.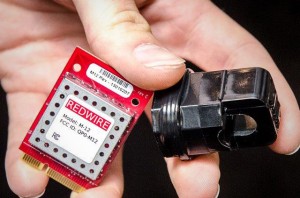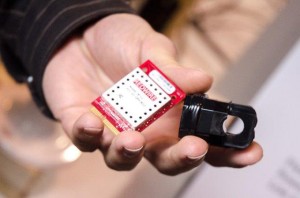 How does your Object/Solution use Internet Technology?
Our sensors use a RESTful api to POST their data to a server on the internet; which greatly improves the efficiency, flexibility, and ease-of-use for the entire system.
They use the various IETF standards for low power wireless ipv6 over 802.15.4. We use the Redwire BR12 border-router to easily acquire a globally routeable ipv6 subnet from the more prevalent ipv4 behind NAT types of networks (the BR12 uses TSP to Lowpan.com to form an ipv6 tunnel). Our sensors implement CoAP resources and RPL routing by running the Contiki Operating system. 
Why did you choose to invent this? What problem does the inventor see that it can solve?
Most of the electrical energy produced in the world is consumed by something in a building and we believe that a Watt conserved is better than a Watt produced. Almost all of these buildings lack a way to measure and manage the power they consume. As such, there is a
considerable opportunity to prevent the production of wasted energy. The first step to an effective conservation plan is to audit the end-uses for the energy. And after a conservation plan is implemented, on-going monitoring is necessary to validate its effectiveness. Current transducers are key to both of these functions.
Redwire has seen significant demand for smarter energy management in buildings. This market is traditionally served by large corporations that do not serve medium to small size buildings (which make up the bulk of the market). By integrated the recent technological gains of low-power wireless internet, ipv6 addressing, and energy harvesting, it is now possible to make a system that has a significantly lower barrier to entry into buildings than before. Lowering these barriers will push end-use metering and conservation into more buildings and less energy will be needlessly wasted.
What is the practical application of your innovation for the everyday user?
Most people won't even know it's there. It will silently monitor the health and efficiency of your electrical system and report actionable data to the people who can fix your problems. People who pay electricity bills or maintain building equipment will directly benefit. Efficiently using energy benefits everyone.
Are there plans to produce your entry for the marketplace, or is it already a product that can be purchased/obtained?
The already available hardware is on the Redwire Online store: http://www.redwirellc.com
The harvesting CT is still under development. We are planning to do a deployment with a customer of 1500 CTs in about 100 buildings near the end of the year.
Why would you consider your device/solution to be "innovative"?
To my knowledge this is the only example of a wireless internet harvesting CT.
Most of what you see is integrated or invented by Redwire. The harvesting circuitry is custom and achieves difficult technical goals (harvesting and measuring are both hard — doing them at the same time is very hard). The wireless module is designed and produced by
Redwire. Some of the firmware is custom. This wouldn't be possible without the Contiki Operating System (of which the  Redwire is one of the developers, but many many others have contributed). The BR12 is a custom linux single-board computer, but the high level RPL management is developed by Redwire (but again, isn't possible without the uncountable open-source contributors)
The Lowpan.com server side as all been developed by Redwire as well.
What would you like to see in the future for the Internet of Things? Why should more companies utilize IP?
My goal is to use internet connectivity to improve the usability of devices. IP is a great funnel. Implementing IP allows a device to focus on performing it's task without working about the details of how data is routed across the network. After you've funneled into IP you can then fan out and do all sorts of fun things.
Read more about the winners: http://wsnblog.com/2013/06/24/self-powered-contiki-power-sensor-wins-ipso-2013-challenge/