People's Choice Award Winner

HeadsUp!
FRANCE/USA
Entry By: Thomas Watteyne and Brett Warneke
Affiliation: Inria (Paris, France) and Linear Technology, Dust Networks Product Group (Silicon Valley, California, USA)
Summary
HeadsUp! uses a smart object equipped with an accelerometer to monitor the position of a patient's head when recovering from pneumatic retinopexy surgery, a procedure used to heal retinal detachment. HeadsUp! employs state-of-the-art, IP-based, low-power wireless networking technology to report data to the cloud. The patient gets alerts whenever his/her head deviates too much from its ideal position. With the patient's consent, the surgeon's office can follow the patient's progress and take corrective actions if required.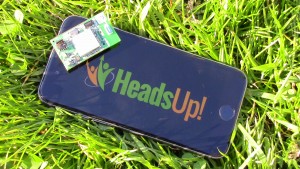 How does HeadsUp! use Internet Technology?
HeadsUp! is a perfect example of an Internet-enabled, low-power, wireless Smart Object solution, as it uses cutting-edge, standards-based technology for both the low-power wireless mesh and the cloud-based back-end system.
HeadsUp! motes connect to the HeadsUp! gateway through a SmartMesh IP network, a technology developed by Linear Technology, and implements a combination of IEEE and IETF standards. This low-power mesh network achieves ultra high reliability (>99.999% end-to-end reliability) and ultra-low power (<50uA@3.6V, or a 10-year lifetime on a pair of AA batteries) by using IEEE 802.15.4e Time Synchronized Channel Hopping (TSCH), the next generation of the ubiquitous IEEE 802.15.4 standard. The HeadsUp! network also implements 6LoWPAN, allowing every mote in the low-power wireless mesh to acquire an IPv6 address. Security in the HeadsUp! low-power mesh network is of paramount importance, and each frame is authenticated and encrypted at different layers of the protocol stack, using the same cipher used for Internet banking. Finally, motes report their sensor readings using a CoAP-like application-level protocol. The HeadsUp! network combines industrial performance with the ease of use offered by IPv6. In tandem with our HeadsUp! activities, we are standardizing this low-power wireless protocol stack at IETF 6TiSCH, an IETF working group we co-chair.
HeadsUp! uses a cloud-based system to collect and store the data measured by the motes. We use the Xively cloud, a trusted partner we have been working with for years. The Xively back-end servers offer a RESTful API, allowing motes to publish data and end users to retrieve that data in a flexible and secure way. All interactions with this API are secured through SSL, the de-facto standard for securing web transactions. This back-end server pushes updates from the data to the HeadsUp! LiveView using WebSockets; the graphical interface of LiveView is programmed using a combination of HTML5 and JavaScript.
HeadsUp! uses a combination of state-of-the-art Internet Technologies for interconnecting Smart Objects and for the cloud-based back-end system. The result is a secure and standards-based solution with industrial performance, exemplifying what can be done with the technologies that are being standardized today.
Why did you choose to invent HeadsUp!? What problem do you see that it can solve?
HeadsUp! was invented after one of the co-founders encountered a difficult medical experience.
A couple of years ago, a family member of one of the co-founders had a retina detachment in both eyes. The condition was detected just in time and the retinopexy surgery was performed immediately. This elegant surgery is extremely quick and requires only local anesthesia; its main drawback is that it requires the patient to keep his/her head in the same position for 1-3 weeks, 24 hours a day. This is uncomfortable during the day, but simply frightening at night, as dozing off in the wrong position for a couple of hours can result in the loss of sight in the worst case.
The patient left the surgery room with an eye patch on which an arrow was drawn and was asked to keep that arrow pointing up at any time. The surgeon's office provided what is today's state-of-the-art tool to help with recovery: a foam cushion with a cutaway to keep the head in place. The doctors recommended that the patient place a mirror in front of their bed to verify the arrow points up.
Hours after surgery, we built what became the first HeadsUp! prototype. This Smart Object was used during the surgical recovery for both eyes. After a couple of weeks, the patient was examined by two independent retina specialists, who indicated the reattachment was perfect and that the recovery was complete, an outcome as fantastic as it is rare. Our goal is for HeadsUp! to help future pneumatic retinopexy patients to recover as well, and to extend the technology to other medical conditions which require precise positioning for extended periods of time.
What is the practical application of HeadsUp! for the everyday user?
HeadsUp! is a generic solution to precisely monitor the position of a patient for extended periods of time. It consists of one or more battery-powered smart objects, each equipped with an accelerometer. Each Smart Object periodically assesses the position of the patient and sends it to a cloud-based back-end system. This allows both the patient and the medical professional to follow the patient's positioning in real time, see long-term statistics, and receive alerts.
HeadsUp! was developed first to help with the recovery of pneumatic retinopexy. Rather than sending the patient home with a cushion, the surgeon's office can now use the HeadsUp! system. The patient wears the headband throughout recovery. They receive alerts whenever their head deviates too much from its ideal position. This allows the patient to sleep with the confidence that the system will prevent his/her from dozing off in the wrong position. Moreover, with the patient's consent, the surgeon's office can follow the patient's progress and take corrective actions if required.
HeadsUp! focus on pneumatic retinopexy patients was a first, clear, target; but that's just a start. Numerous medical conditions require long-term patient position monitoring. One example is pressure sores, which typically happen when a patient lays in bed for extended periods in a hospital environment.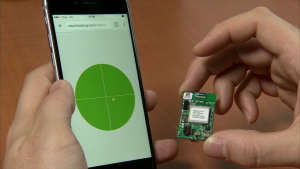 Are there plans to produce HeadsUp! for the marketplace, or is it already a product that can be purchased/obtained?
The goal is absolutely to take HeadsUp! into the marketplace, and the IPSO CHALLENGE plays an important catalyzing role in that process. The IPSO CHALLENGE prize would allow us to take HeadsUp! through a number of alpha trials, and to kick-start the FDA approval process. But far more than the prize, the IPSO CHALLENGE gives us the exposure we need to contact angel investors and turn HeadsUp! into a commercial product.
Why would you consider HeadsUp! to be "innovative"?
HeadsUp! applies cutting-edge low-power wireless and cloud technology to a real-world problem. It is innovative in two ways.
First, HeadsUp! employs low-power wireless networking technology which combines industrial performance (through the recent IEEE 802.15.4e TSCH standard) with the ease of use of IPv6 (through the 6LoWPAN standard). The resulting mesh technology is being standardized at the IETF, through the 6TiSCH working group, which we started and are now co-chairing. With >99.999% end-to-end reliability, 10+ years of lifetime on a pair of AA battery, a cloud-based back-end solution and a security-by-design architecture, HeadsUp! embeds best-in-class low-power wireless networking technology.
Yet, the innovative aspect of HeadsUp! is not its technical novelty, but the fact that it revolutionizes a recovery procedure in a very common eye surgery. The elegance of HeadsUp! is that it applies well-known and easy-to-use Smart Object technology to an important medical situation. The fact that the first HeadsUp! prototype was developed and very successfully used as part of the recovery process underlines the effectiveness of the solution and its need in the real world.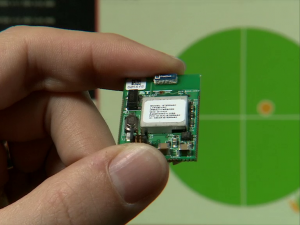 What would winning IPSO CHALLENGE 2015 mean for you or your company?
IPSO CHALLENGE 2015 plays an important role in our project. IP-enabled Smart Objects will revolutionize health-care and patient well-being by offering simple-to-use, non-intrusive tools that remotely monitor patients and warn physicians when needed. HeadsUp! is an example of applying IP-enabled Smart Object technology to health-care. The IPSO CHALLENGE is the ideal catalyst for enabling these cross-domain products to develop. Winning IPSO CHALLENGE 2015 would give us the necessary visibility and seed funding to further develop the product through clinical trials, take the HeadsUp! solution to market, and contribute to a society where smart objects help us live healthier lives.
If selected as the Grand Prize winner, how do you think you will spend the $10,000 prize?
The Grand Prize would be the seed funding we need to take the HeadsUp! solution to market. So far, the HeadsUp! project has been self-funded. The $10,000 prize would allow us to design and manufacture a professional-grade enclosure, engage with health-care professionals and test the solution in a real environment. The Grand Prize would only be seed money. We are confident that we will be able to secure additional funding as the clinical trials progress.
What would you like to see in the future for the Internet of Things?
The Internet of Things has a huge potential, and generally is uncharted territory. It is an exciting time to be innovating in that area. We believe that the key to commercial success in the IoT space are solutions that address a real need and offer reliable, secure and easy-to-use technologies. We find this is particularly true in health-care applications. This is the reason why we are using Linear Technology's SmartMesh IP networking technology, the de-facto standard in industrial applications. The HeadsUp! project is a first step for us towards building the "Internet of Important Things".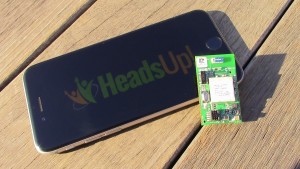 Why should more companies utilize IP?
As the narrow waist of the Internet, IP is a "sine qua non" for seamless interoperability between products from different vendors. In the early days of the IoT, the lack of interoperation was a barrier for wide-spread adoption.
IP also offers two huge advantages: it allows end-to-end security between smart objects and cloud services, and allows networks of heterogeneous device to connect to a common backbone. Hence, IP is a must-have in a hospital environment, where medical equipment, sensors and physician tracking devices should all network with a single wireless infrastructure.
Why did you decide to enter IPSO CHALLENGE 2015?
Combined, we have over 25 years of low-power wireless experience and have witnessed the tremendous success of the IPSO Alliance in bringing together companies, technology and researchers around the concept of IP-enabled Smart Objects. The IPSO CHALLENGE is a yearly flagship event, which we have followed since its 2013 debut. We have been working on the HeadsUp! prototype for about 2 years, and the latest prototype — which features a SmartMesh IP technology — met our goals of being compact, reliable and low-power, allowing us to submit it for IPSO CHALLENGE 2015.
Contact Information:
thomas.watteyne@inria.fr
bwarneke@linear.com
Facebook | LinkedIn
Twitter: @heads_up_tech