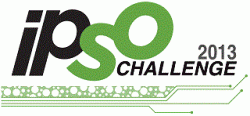 COLORADO SPRINGS, CO–(Marketwire – Feb 19, 2013) – The IPSO (Internet Protocol for Smart Objects) Alliance has announced its first global IP Innovation Challenge for the next generation Internet of Things (IoT). As determined by a panel of industry experts, the top three most innovative entries will win a monetary prize ($10,000, $5,000 and $2,500 USD). Winners will be flown to Chicago to receive their awards at Sensors Expo 2013.
The competition seeks innovative concepts in interfaces, interactions, and applications showcasing the use of the Internet Protocol (IP) in sensor/control and machine-to-machine (M2M) applications enabling the IoT. Thirty years after the official adoption of the TCP/IP networking protocol, hundreds of millions of devices are connected to the Internet; before the end of the decade, that number is expected to grow to over thirty billion. Over the coming years, the vast majority of new connected devices won't be computers, tablets, or smartphones, but will be intelligent embedded devices running IP.
First round submissions require a written proposal and description; submissions may include videos, photos and other attachments to assist judges in identifying compelling solutions and capabilities. Deadline for submitting a written proposal is 5 April; semi-finalists will be notified by 15 April. Selected semi-finalists MUST deliver a functional prototype to IPSO no later than 17 May.
All semi-finalists will be recognized by IPSO, introducing contestants and their designs to the greater technology world. The three finalists will also have the opportunity to demonstrate their solution on stage at Sensors Expo 2013. Entrants will retain all rights to their designs. More information and the entry form are available at 2013 IPSO Challenge.
About the IPSO Alliance
The IPSO Alliance is the primary advocate of IP for Smart Objects for use in energy, consumer, healthcare, and industrial applications. The Alliance, a non-profit organization whose members include leading technology, communications and energy companies, promotes the use of the Internet Protocol to serve as the foundation for a network of sensor-enabled physical objects to communicate with each other as seamlessly as individuals do over the Internet.
IPSO Alliance membership is open to any organization supporting an IP-based approach to connecting smart objects. For more information, visit www.ipso-alliance.org or contact marketing@ipso-alliance.org.
Back to Press