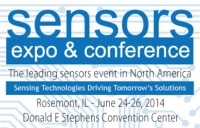 ROSEMONT, IL, February 19, 2014 – Trade Show Executive Magazine has named Sensors Expo & Conference an honoree of the 2014 Fastest 50 Awards – recognizing growth in exhibit space, growth in the number of exhibitors and growth in attendance. Plans are fully underway for the growth to continue as Sensors Expo announces expanded partnerships with High-Performance Computing Conference (HPCC) and IPSO Alliance for Sensors 2014 Expo & Conference, taking place at The Donald E. Stephens Convention Center in Rosemont, IL, June 24-June 26.
Sensors Expo will be expanding its partnership with the IPSO (Internet Protocol for Smart Objects) Alliance in 2014, to expand the Internet of Things (IoT) Pavilion on the Expo floor showcasing technologies enabling IoT through the use of IP in sensor/control and M2M applications, as well as showcase the ten semi-finalists of the IPSO Challenge. IoT will also be covered in the Conference Program with a Pre-Conference Symposium "Making the Internet of Things a Reality: A Toolkit for Designing Smart," led by Will Tu, Director of Embedded for ARM.
Presenters in the symposium will share insight and expert knowledge on the current state of the IoT market and future technology trends. The Sensors Conference will also offer a new M2M Track as well as an IoT: Internet of Things Track, both sponsored by ARM with sessions on "Apples-to-Apples. Machine-to-Machines. Machines-to-Apples? Connecting Everything through the Internet of Things and Sensing," "Location in the Internet of Things: OGC's SensorThings," and more.
"We are delighted to partner with Sensors Expo again. We look forward to co-hosting the IPSO CHALLENGE at this expanded IoT venue, and continuing to support the development and adoption of internet connected smart devices," said Nick Ashworth, Chairman of the IPSO Alliance.
For more information about Sensors Expo & Conference, as well as the 2014 event partners, please visit www.sensorsexpo.com.
Back to Press